Stardust-NExT to make Valentine rendezvous with comet Tempel 1
NASA sent its Deep Impact probe to comet Tempel 1 in 2005, but failed to get the data it wanted. Now, with Stardust-NExT returning this Monday, NASA gets a second shot.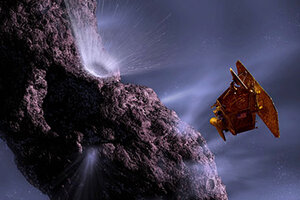 NASA/Newscom
A retread spacecraft is headed for a Valentine's Day tryst with familiar comment, the spud-shaped Tempel 1.
NASA's Stardust-NExT spacecraft is slated to flit by the comet at 11:37 Eastern Standard Time Monday night, passing within 120 miles of the object's nucleus – an encounter that researchers hope will unlock some of the object's secrets and complete some unfinished business there.
It won't be NASA's first visit to the comet. The Deep Impact mission, launched in January 2005, sent a projectile into the comet's surface during a flyby on July 4 of that year.
That mission revealed a comet that was "unusually interesting," says the mission's lead researcher, Joseph Veverka, a planetary scientist at Cornell University in Ithaca, N.Y.
Deep Impact beamed back images of a sculpted Tempel 1 nucleus hosting craters, long stretches of cliffs, sediment layering, and plateaus that look like debris flows.
Based on those images, researchers have gleaned that the comet "really has a geologic history; it's not just a fuzz ball" says Peter Schultz, a planetary scientist at Brown University and a member of both the Deep Impact and Stardust-NExT science teams.
And while Deep Impact's projectile slammed into the comet's surface as planned, the dust it kicked up obscured the crater it formed, preventing researchers from using the crater to better understand the structure of the nucleus and how firmly it's held together.
---