'R2' humanoid robot to blast off with space shuttle launch
Space shuttle launch on Thursday will include a robotic passenger dexterously designed to make astronauts' lives easier.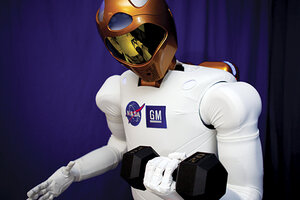 NASA
Quick quiz: When the space shuttle Discovery makes its oft-delayed liftoff for the International Space Station (ISS), how many crew members will be aboard?
Six, you say? Make it 6-1/2.
Sporting a streamlined bronze helmet with an Iron Man-cool reflective visor, plus a white form-fitting uniform that would turn heads at the local gym, that extra half is R2. Think pencil-necked Power Ranger with no legs.
R2 is the waist-up portion of a humanoid robot – a prototype "robonaut" that could become just as at home on a factory assembly line as repairing power converters on the outside of the space station or holding a wrench while an astronaut fixes a cranky Colbert exercise machine.
Indeed, half of the replaceable components on the ISS can only be swapped out by humans in spacesuits, notes Ron Diftler, robonaut project manager at the Johnson Space Flight Center in Houston. Preparations for spacewalks are time-consuming, and outside the air lock the work is downright dangerous.
"Our goal with robonaut is to build a robot that approaches the dexterity of a spacesuited astronaut," Mr. Diftler says. "Once we do that, that robot has multiple roles."
---