'Dixie Alley' as dangerous as the better-known Tornado Alley, say scientists
As storms ravage the South, a recent study suggests that Dixie Alley may just be an extension of its better-known neighbor Tornado Alley, putting much of the eastern US at an 'elevated' risk for tornadoes.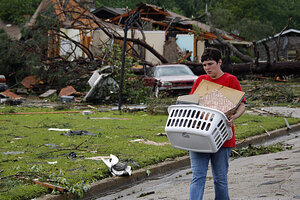 Rogelio V. Solis / AP
As the US Southeast continues to endure an onslaught of severe thunderstorms and tornadoes, a recent study of tornado patterns in the US points to Smith County, Miss., as the tornado-risk capital of the United States.
For generations raised on the notion of a "Tornado Alley" in the US – running roughly from northern Texas, through the eastern Great Plains, and into the western Great Lakes states – the results may come as something of a surprise.
National Weather Service forecasters have long warned that while some areas have higher risks of tornadoes than others, every state in the union experiences twisters. States within Tornado Alley, along with Florida, have been viewed as the areas with the highest risk.
In the new analysis, the five counties in the eastern US facing the highest tornado risk – in this case, a high probability that in any two-year period, three tornadoes will track through the same 20-mile radius – include counties in Nebraska, Oklahoma, and Arkansas.
---