SETI puts E.T. on hold
SETI has temporarily halted one of its chief alien-hunting tools, the Allen Telescope Array, citing lack of funding.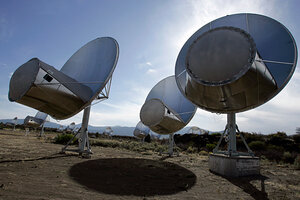 Ben Margot/AP/File
If alien civilizations have been trying to contact us for the last week and a half, their calls may have fallen on deaf ears.
Budget cuts have forced the SETI (Search for Extraterrestrial Intelligence) Institute -- a nonprofit research organization based in Mountain View, Calif. -- to shut down one of its chief alien-hunting tools for a spell. [5 Bold Claims of Alien Life]
SETI's Allen Telescope Array, a set of 42 radio telescopes in northern California that scan the skies for potential alien radio signals, has been shut down since April 15, officials said.
"Effective this week, the ATA has been placed into hibernation due to funding shortfalls for operations of the Hat Creek Radio Observatory (HCRO) where the ATA is located," SETI CEO Tom Pierson wrote in a letter to potential donors Friday (April 22). "Hibernation means that, starting this week, the equipment is unavailable for normal observations and is being maintained in a safe state by a significantly reduced staff."
Funds have dried up
Microsoft co-founder Paul Allen initially provided $25 million for the ATA, which began operations in 2007. Since then, the array has been funded by SETI, the National Science Foundation, the University of California, Berkeley, and a variety of corporate and individual donors.
---