Huge asteroid to buzz Earth in November
On November 8 and 9, the quarter-mile-wide asteroid 2005 YU55 will zoom past the Earth, coming within about 200,000 miles, a distance closer than our moon.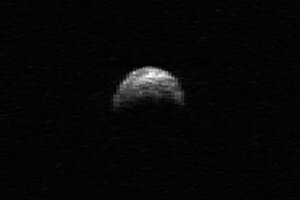 NASA/Cornell/Arecibo
An asteroid the size of an aircraft carrier will come closer to Earth this autumn than our own moon does, causing scientists to hold their breath as it zooms by. But they'll be nervous with excitement, not with worry about a possible disaster.
There's no danger of an impact when the asteroid 2005 YU55 makes its close flyby Nov. 8, coming within 201,700 miles (325,000 kilometers) of Earth, scientists say.
So they're looking forward to the encounter, which could help them learn more about big space rocks.
"While near-Earth objects of this size have flown within a lunar distance in the past, we did not have the foreknowledge and technology to take advantage of the opportunity," Barbara Wilson, a scientist at NASA's Jet Propulsion Laboratory in Pasadena, Calif., said in a statement. "When it flies past, it should be a great opportunity for science instruments on the ground to get a good look." [Photos: Asteroids in Deep Space]
Getting to know YU55
Asteroid 2005 YU55 is about 1,300 feet (400 meters) wide. It was discovered in December 2005 by the Spacewatch program at the University of Arizona in Tucson.
Because of the asteroid's size and orbital characteristics, astronomers have flagged 2005 YU55 as potentially dangerous down the road. But the upcoming encounter is no cause for alarm, researchers said.
---