Zombie ants: How fungus can turn an insect into a puppet
Zombie ants: recent discoveries of how a parasitic fungus controls so-called zombie ants.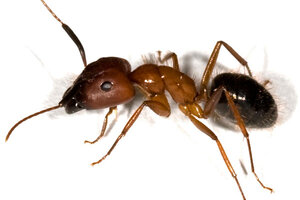 JURGEN LIEBIG/NYU LANGONE MEDICAL CENTER/AFP/File
New gruesome details have emerged explaining how a parasitic fungus manipulates an unfortunate ant, filling its head with fungal cells and changing its muscles so the ant can grab a leaf in a death grip just when and where the fungus wants it.
Research in a Thai rain forest has shown the fungi, a species of Ophiocordyceps, forces an infected ant to wander drunkenly over the forest's low leaves before clamping its jaws around the main vein on the underside of a leaf in an ant zombie graveyard. [Mind Control: Gallery of Zombie Ants]
By watching 16 infected ants bite down, the researchers found that their last bites took place around noon, indicating they are synchronized to either the sun or a related cue, like temperature or humidity.
"Synchronized arrival of zombie ants at the graveyards is a remarkable phenomenon. It adds a layer of complexity on what is already an impressive feat," wrote David Hughes, a study researcher from Pennsylvania State University, in an email to LiveScience. "However, although ants bite at noon they don't in fact die until sunset. Likely this strategy ensures (the fungus) has a long cool night ahead of it during which time it can literally burst out of the ant's head to begin the growth of the spore-releasing stalk"
---