Japan earthquake: Big, shallow quakes have a warning signal, say researchers
The release of radon gases three days prior to the May 11 Japan earthquake triggered changes in the atmosphere over Japan. It's early but this may be a warning signal to predict future quakes, says not-yet-published research by California scientists.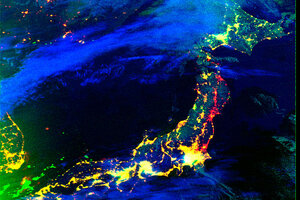 NASA/REUTERS
The atmosphere above the epicenter of the March 11 earthquake in Japan underwent unusual changes in the days leading up to the disaster, according to preliminary data.
The research has not yet been published in an academic journal or reviewed by other scientists, but it could offer an intriguing possibility for earthquake prediction — though the day scientists are able to forecast earthquakes is still "far away," said study researcher Dimitar Ouzounov, a professor of earth sciences at Chapman University in California.
Looking to the sky in hopes of predicting an earthquake is not a new idea. The theory, which in science circles is called "Lithosphere-Atmosphere-Ionosphere Coupling mechanism," goes like this: Right before an earthquake, the stressed fault releases more gases, especially the colorless, odorless radon gas. Once in the upper-atmosphere ionosphere, the radon gas strips air molecules of their electrons, splitting them into negatively charged particles (the free electrons) and positively charged particles. These charged particles, called ions, attract condensed water in a process that releases heat. [Infographic: Tallest Mountain to Deepest Ocean Trench]
And scientists can detect this heat in the form of infrared radiation.
---