Where did life exist on Mars? NASA chooses landing site for Curiosity rover
Curiosity rover, formally known as the Mars Science Laboratory, will land at the foot of an 18,000-foot mountain in Gale crater, NASA announced Friday. The mount is expected to yield unparalleled information on where and when life might have existed on Mars.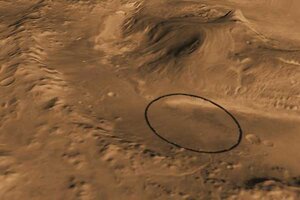 NASA/JPL/AP
NASA scientists announced Friday that the next Mars rover will land at the foot of a towering mountain – higher than any in the continental United States – and so dramatically layered that scientists hope to read it like a novel of Martian history, discovering where and when life might have existed on the Red Planet.
The August 2012 arrival of the roving Mars Science Laboratory, nicknamed Curiosity, represents an important moment in the history of Mars science, team members suggested.
Curiosity will land on the floor of Gale crater, a tiny landing target that would have been off-limits to previous rovers. Moreover, the rover, which is much bigger and burlier than earlier rovers, is designed easily to cover distances and climb slopes that would have sent shivers down the spine of previous rover-mission managers.
The Curiosity team has even dared to dream that, one day, Curiosity might stand atop the mysterious three-mile-high mountain in the middle of Gale crater, giving its Earthbound operators a spectacular view over the Marian landscape. The crater floor is sloped, so the southern side of the mountain rises some 15,000 feet, while the northern approach – which Curiosity will likely take – reaches closer to 18,000 feet.
This mission marks a new and growing confidence among planetary scientists. While the human spaceflight program has an uncertain future, after the ending of the space shuttle program on Thursday with the landing of Atlantis, NASA probes are becoming ever-more adept at exploring previously out-of-reach realms of the solar system, from Pluto to the surface of Saturnian moons to the scorched face of Mercury.
---