Frankenstein moon: Astronomers vindicate Mary Shelley's account
Frankenstein moon: 'Frankenstein' author Mary Shelley claimed that the tale came to her in a vision late one night as the moon streamed through her window. Her account was disputed, but astronomers at Texas State University have now substantiated her 'Frankenstein moon.'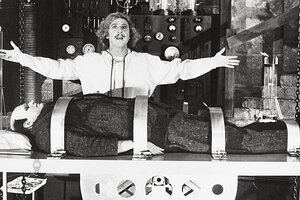 20th Century Fox /Album/Newscom
Many literary critics have long thought that Mary Shelley fabricated her account of how she came up with the idea for her 1818 novel "Frankenstein." But a research by a team of astronomers suggests that she was telling the truth.
In the preface to the 1831 edition of the novel, Shelley wrote that the idea first came to her in the summer of 1816, where she stayed in a manor on Lake Geneva with her future husband Percy Bysshe Shelley and the writers Lord Byron and John Polidori. Byron suggested that each of them write a ghost story. Days passed, but Shelley produced nothing but "that blank incapability of invention which is the greatest misery of authorship."
Then late one night, after a conversation about the possibility of using electricity to reanimate cadavers, the story came to her in a waking dream in which she saw a "hideous phantasm of a man" being animated by "the working of some powerful engine." When Shelley opened her eyes, she saw moonlight entering her room through the shutters, and a story was born.
Many literary scholars have long doubted Shelley's account of agonizing for days without an idea, only to have it arrive in a flash as the moonlight streamed into her room. Most accounts, largely based on Polidari's journals, have Byron issuing the ghost story challenge on June 16, 1816, and then have Shelley already at work on her story the following day. But Polidari never explicitly mentioned when Byron made his suggestion.
---