New images of protoplanet Vesta reveal mountain bigger than Everest
Planetary scientists are getting an initial look at the protoplanet Vesta via NASA's Dawn mission, revealing a surprising range of features – including long parallel troughs around the equator.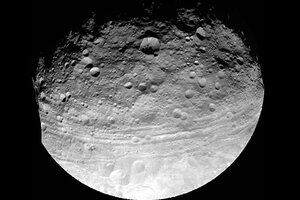 NASA/JPL-Caltech/UCLA/MPS/DLR/IDA
The protoplanet Vesta, once a fuzzball in telescopic images, is revealing a surprising range of features – from a mountain with a rise three times higher than Mt. Everest's to a puzzling band of deep, wide, and long troughs gouged into Vesta's surface.
These are among the highlights from an initial look planetary scientists are getting at Vesta via NASA's Dawn mission. The researchers described their observations on Wednesday at a meeting of the Geological Society of America in Minneapolis.
Launched Sept. 27, 2007, Dawn arrived at Vesta last July and is lingering for a year's worth of observations before moving on to another, equally intriguing object, Ceres.
Both Vesta and Ceres orbit the sun between Mars and Jupiter among an assemblage of construction rubble known as main-belt asteroids – leftovers from the early, heady days of planet formation in some 4.5 billion years ago.
But Vesta and Ceres attained a stature asteroids didn't. The two objects are considered protoplanets. They acquired enough mass to undergo processes that led to subsurface redistribution of material based on density – a process known as diferentiation and one milestone during the transition from a ball of cosmic rubble to a planet.
The duo's growth, however, was stunted – frozen in time – by gravity from a rapidly bulking Jupiter. Thus, researchers hold that Vesta and Ceres can provide unique insights on an important stage of planet formation that until now has been the province of computer models.
---