Bering Sea Storm: Where did Alaska's 'epic' storm come from?
Bering Sea Storm: The National Weather Service warns that the storm of 'epic magnitude' that is making its way toward northwestern Alaska could be the biggest the state has seen in 40 years.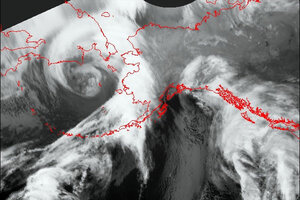 National Weather Service/AP
An extremely dangerous storm is slicing toward northwestern Alaska and is expected to bring blizzard conditions and hurricane-strength winds to the state's west coast. The storm, which formed from a mix of air masses over an area of ocean prone to spinning up strong storms, could be bigger than anything ever seen in the 49th state, the National Weather Service warned.
This morning (Nov. 8) the storm was about 600 miles (965 kilometers) southwest of St. Lawrence Island in the Bering Sea. According to the forecast from the NWS office in Fairbanks, Alaska, it was to sweep into Russia's Chukotsk Peninsula tonight and move into the northwestern Chukchi Sea.
"This will be extremely dangerous and life-threatening storm of an epic magnitude rarely experienced," read a statement from the NWS. "All people in the area should take precautions to safeguard their lives and property."
The storm could be one of the most severe Bering Sea storms in nearly 40 years. The strong winds are expected up and down the entire west coast of the state. [Related: Hurricanes from Above: See Nature's Biggest Storms]
"Something that's kind of unusual in this case is that all of our computer models were in agreement of this being an extremely strong storm," said Jim Brader, a meteorologist at the Fairbanks NWS office.
How it formed
The storm is the product of warm air in the Pacific Ocean tapping into the cold air off Siberia, picking up speed in a jet stream near there and then intensifying as it moved into the Bering Sea – "a place where storms typically intensify," Brader told OurAmazingPlanet.
The weird storm has an unusually long fetch length, which is the length of the wind blowing in a single direction over water. In this case it's maybe 1,000 miles (1,600 km), Brader said.
To envision what a long fetch length will do, think about blowing wind with your mouth over a bowl of water; the water piles up at the opposite end. The same thing happens over the ocean. The stronger and longer the fetch length, the bigger the waves it will create.
---