NASA Mars rover finds strong evidence of water
NASAs Opportunity Mars rover, which landed on the red planet nearly eight years ago, has discovered a mineral vein that was almost certainly deposited by water billions of years ago.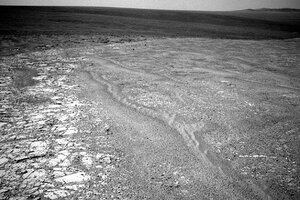 NASA/AP
A well-traveled NASA Mars rover has found some of the best evidence yet that water flowed on the Red Planet's surface long ago, researchers announced today (Dec. 7).
The Opportunity rover, which landed on Mars nearly eight years ago, has discovered a thin, bright mineral vein along the rim of a huge crater called Endeavour. This mineral is almost certainly gypsum that was deposited by liquid water billions of years ago, researchers said.
"This is the single most powerful piece of evidence for liquid water at Mars that has been discovered by the Opportunity rover," Steve Squyres of Cornell University, Opportunity's principal investigator, told reporters here today during the 2011 winter meeting of the American Geophysical Union.
Exploring Endeavour Crater
The golf-cart-size Opportunity and its twin, Spirit, landed on Mars in January 2004 to search for signs of past water activity on the Red Planet. [Mars Photos by Spirit and Opportunity]
The two rovers' prime missions were slated to last just three months, but both far outlived their warranties. NASA declared Spirit dead just this year, and Opportunity is still going strong.
After a three-year trek, Opportunity reached the 14-mile-wide (22-kilometer) Endeavour Crater this past August. While poking around Endeavour's rim recently, it found the mineral vein, which is about 20 inches (51 centimeters) long and about the width of a human thumb.
---