Quadrantid meteor shower won't have to compete with moonlight
Quadrantid meteor shower peak could hit as many as 100 meteors per hour, says NASA. The Quadrantid meteor shower will peak at 2 a.m. on Jan. 4.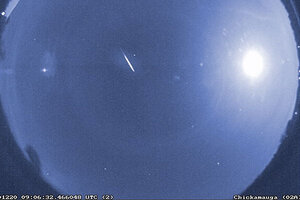 NASA/MEO/B. Cooke
The first meteor shower of 2012 — the lesser known Quadrantid meteor shower — will kick off a new year of skywatching when it peaks on Wednesday (Jan. 4).
While many meteor displays in 2011 were washed out by a bright moon, the Quadrantid meteor shower is expected to put on a spectacular light show, with no pesky moonlight to interfere. The peak of the Quadrantids will occur at around 2 a.m. EST (0700 GMT) on Jan. 4.
If you're planning to stay up late to catch the peak, you could be treated to meteors at a rate of 100 per hour, NASA officials said in a statement. Luckily, the waxing gibbous moon will set at around 3 a.m. local time, so as long as there are clear skies, conditions should be ripe for meteor watching into the pre-dawn hours. The sky map available here shower where to look to see the Quadrantid meteors.
RECOMMENDED: Top 12 skywatching events of 2012
Unlike the more well-known Perseid and Geminid meteor showers, the Quadrantids last only a few hours, so skywatchers have a narrower window of opportunity to spot them.
Meteor showers occur when Earth travels through leftover debris from comets or asteroids. They are often known as "shooting stars," because of the way they streak across the sky.
The Quadrantid meteors originate from an asteroid called 2003 EH1, and were first seen in 1825. According to some studies, this cosmic body could be a piece of a comet that broke apart several centuries ago, and the Quadrantids are the crumbled relics of debris from this fragmentation, NASA officials said. [12 Must-See Skywatching Events in 2012]
As Earth passes through, dust and debris will enter the planet's atmosphere a blistering speed of about 90,000 miles per hour (almost 145,000 kilometers per hour). These fragments will burn up about 50 miles (80 km) above Earth's surface, NASA officials said.
---