Scientists reveal secret of humongous mammals
How did some mammals get so big? A new study calculates the rate at which mammals evolved from mouse-sized to elephant-sized.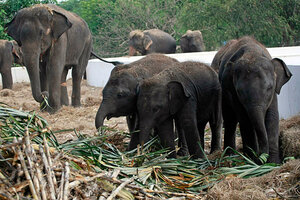 Apichart Weerawong/AP/File
Within as little as 24 million generations, mammals can evolve from the size of a mouse to the size of an elephant, a new study estimates.
This calculation is based on the most rapid increase in size seen in the fossil record after a mass extinction wiped out their much larger competitors, the dinosaurs. They also found animals can shrink more than 10 times as fast as they can grow to giant sizes.
"What we wanted to know is how quickly could they evolve from these tiny, scampering mammals to the behemoths of the land we see now," Alistair Evans, the lead study researcher and an evolutionary biologist at Monash University in Australia wrote in an email to LiveScience. "It's a classic story of taking advantage of a new opportunity — the vacant landscape devoid of dinosaurs."
At the end of the Cretaceous Period, about the time the dinosaurs disappeared, mammals were small — the largest ones appear to have been rodent-like creatures about the size of rabbits, weighing about 6.6 lbs. (3 kilograms).
Within about 40 million years, the largest land mammal ever to live had emerged: the Indricotherium.
Related to horses and rhinos, the tusked, tree-leaf-eating Indricotherium is estimated to have weighed as much as 33,000 lbs. (15,000 kg), according Evans.
Evans and his colleagues looked at size changes within 28 groups of mammals, called orders of mammals, on four continents and all ocean basins. They found a discrepancy between the rate of change within species and the rate of change within higher level groups that include many species, such as orders. Within species, change happens more quickly, but these rates do not last for long.
---