Reports: Iran successfully launches small Earth-watching satellite
Iranian state news reported that the Iranian Space Agency has successfully launched a 110-lb. satellite into orbit Friday, in what is being hailed as a huge achievement for the country's space program.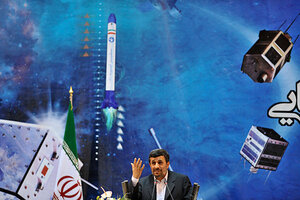 Sajjad Safari/IIPA/Reuters
Iran launched a small Earth-observing satellite into orbit today (Feb. 3), marking the country's first successful mission since a failed attempt to put a monkey in space last year, according to state news reports.
The Iranian Space Agency launched the new "Promise of Science and Industry" satellite into orbit today using a Safir 1-B rocket, according to a translation of a statement posted to the agency's Farsi-language website. Safir means "Ambassador" in Farsi.
The new Iranian satellite weighs about 110 pounds (50 kilograms) and was built by students at the Sharif University of Technology, according to a report by Iran's Islamic Republic News Agency.
According to the Iranian Space Agency, the satellite is shaped like a cube that is nearly 20 inches (50 centimeters) wide. It is circling Earth in an elliptical orbit and passes over Iran six times a day. The satellite will fly a two-month mission and is controlled via five ground stations, one each in the cities of Karaj, Tabriz, Qeshm, Bushehr and Mashhad, Iranian space officials said.
Iranian defense minister General Ahmad Vahidi hailed the launch as a huge achievement for Iran's space technology effort, the news agency reported. "Promise of Science and Industry" will be used by researchers to study Earth's weather systems and manage responses to natural disasters, according to the IRNA.
---