Why is NASA sending a penny to Mars?
A US penny is on-board NASA's Curiosity rover that is scheduled to land on Mars in August. The 1909 penny commemorating the centennial of President Lincoln's birth will act as a calibration target to help scientists and the public to gauge the size of objects on Mars.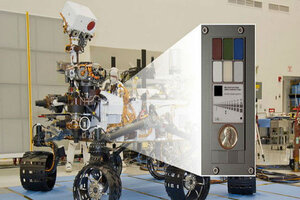 NASA/JPL-Caltech
A penny in today's economy does not go very far, but that has not stopped NASA from making a 1-cent piece stretch all the way to another planet: Mars.
The copper coin is attached to a smartphone-size plaque at the end of the robotic arm on Curiosity, NASA's Mars Science Laboratory car-size rover. The plaque, which was added to the vehicle as a calibration target, looks like an eye chart supplemented with color chips and the attached penny.
NASA launched the Curiosity rover last November and it is scheduled to touch down on Mars in August.
Targeted for a landing inside the Red Planet's Gale Crater, Curiosity will then begin its two-year mission to determine whether the area's environment has ever been favorable to support microbial life.
Researchers will use Curiosity's calibration plaque to test one of the six-wheeled rover's five science cameras, the Mars Hand Lens Imager (MAHLI).
The "hand lens" in MAHLI's name refers to Earth-bound field geologists' practice of carrying a hand lens for close inspection of rocks they find. When shooting photos in the field, geologists use various calibration methods.
"When a geologist takes pictures of rock outcrops she is studying, she wants an object of [a] known scale in the photographs," said principal investigator Ken Edgett with Malin Space Science Systems in San Diego, Calif. "If it is a whole cliff face, she'll ask a person to stand in the shot. If it is a view from a meter or so away, she might use a rock hammer." [Photos: NASA's New Mars Rover Curiosity]
---