Saturn's frigid moon holds wisps of oxygen, scientists say
After the Cassini probe's flyby over Dione, Saturn's cratered icy moon, scientists have found strong evidence of a thin layer of oxygen in its atmosphere.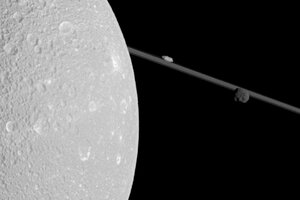 NASA/Reuters
There's oxygen around Dione, a research team led by scientists at New Mexico's Los Alamos National Laboratory announced on Friday. The presence of molecular oxygen around Dione creates an intriguing possibility for organic compounds — the building blocks of life — to exist on other outer planet moons.
One of Saturn's 62 known moons, Dione (pronounced DEE-oh-nee) is 698 miles (1,123 km) in diameter. It orbits Saturn at about the same distance that our Moon orbits Earth. Heavily cratered and crisscrossed by long, bright scarps, Dione is made mostly of water ice and rock. It makes a complete orbit of Saturn every 2.7 days.
Data acquired during a flyby of the moon by the Cassini spacecraft in 2010 have been found by the Los Alamos researchers to confirm the presence of molecular oxygen high in Dione's extremely thin atmosphere — so thin, in fact, that scientists prefer the term exosphere.
While you couldn't take a deep breath on Dione, the presence of O2 indicates a dynamic process in action.
---