Study finds way more emperor penguins than previously thought
New satellite data reveals that emperor penguins are far more abundant in Antarctica than previously estimated.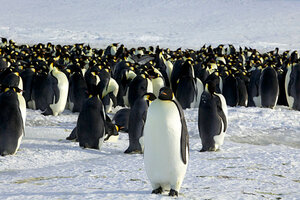 Martin Passingham/Reuters
Emperor penguins in Antarctica are far more plentiful than previously thought, a study that used extremely high-resolution imagery snapped by satellites has revealed.
"It surprised us that we approximately doubled the population estimate," said Peter Fretwell, a scientist with the British Antarctic Survey and lead author of a paper published today in the journal PLoS One.
Fretwell said that in contrast to previous estimates, which put emperor penguin numbers somewhere between 270,000 and 350,000 birds, the new research counted 595,000 birds.
Antarctic research is challenging, since humans can essentially only work on the frigid continent for three months out of the year, and nailing down hard numbers for the iconic birds has proved difficult.
Bird census
The last overall population estimate, done in 1992, found that approximately 135,000 to 175,000 emperor penguins lived around the continent. [See Antarctica's iconic emperor penguins in action.]
Fretwell and a team of researchers melded several kinds of high-definition imagery captured by satellites to arrive at their new number. They sharpened the images to allow them to differentiate between penguins, shadows on the ground, and the penguins' poop, which is plentiful enough to show up in satellite pictures.
---