Will visitors be allowed on board the Space Shuttle Discovery?
On Thursday, NASA handed the world's most traveled space shuttle over to the Smithsonian. Visitors won't be able to walk its decks, but they will be able to experience the shuttle's interior through interactive images.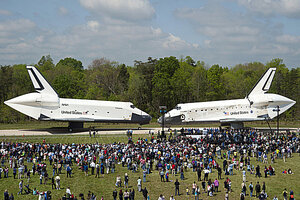 AP Photo/Smithsonian Institution via NASA, Carolyn Russo
NASA turned over space shuttle Discovery on Thursday to the Smithsonian Institution, the first in its orbiter fleet to be transferred to a U.S. museum.
The U.S. Marine Drum and Bugle Corps, astronauts including former Sen. John Glenn and several thousand visitors with American flags greeted Discovery. It will retire as an artifact representing the 30-year shuttle program.
The world's most traveled spaceship has been lifted off its Boeing 747 carrier and towed to the museum near Dulles International Airport.
Curator Valerie Neal said Discovery will be displayed as if it just landed, with its large payload bay doors closed. Some of its side panels are worn and discolored, and tiles on its underbelly show streaks from the flames of re-entry to the atmosphere.
The top question museum visitors have been asking is whether they will be able to walk inside Discovery or see the flight deck, Neal said.
"We don't permit that here because we treat all of the aircraft and spacecraft as artifacts, not as exhibit props," she said. Allowing people to walk inside would require cutting a bigger hatch, which would damage it.
Instead, the museum has created 360-degree interactive pictures of Discovery's flight deck and mid deck. Soon there will also be images of the payload bay accessible at kiosks near the Discovery display. That will allow visitors to have a view from the commander's seat and then float through compartments to explore the shuttle. A companion exhibit at the museum on the National Mall will include a model of Discovery's mid deck, where visitors can climb inside and see a shuttle toilet (think vacuum cleaner) and other features.
---