Venus to have its final day in the sun for the 21st century
The planet Venus is due to pass in front of the sun on June 5th and 6th. It won't do so again until 2117.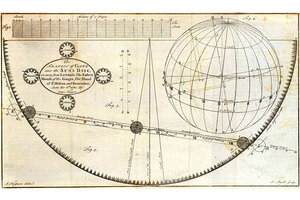 NASA Goddard Space Flight Center Sun-Earth Day
Scientists are gearing up for the upcoming transit of Venus, an extremely rare opportunity to watch the planet Venus pass in front of the sun as seen from Earth.
Venus is due to make this cosmic crossing June 5-6 — the last time such an event will occur until 2117.
When viewed through special solar filters or protective equipment, the transit should offer skywatchers and amateur astronomers an unforgettable sight, weather permitting. But the event is also a rare opportunity for scientists.
As Venus transits the sun, sunlight will be filtered through the planet's atmosphere. By analyzing the absorption features in this light, researchers can learn more about the chemical elements present in the gaseous haze around Venus.
Many of the world's premier telescopes will be trained on the sight, including NASA's Hubble Space Telescope and Solar Dynamics Observatory, as well as the European Space Agency's Venus Express satellite in orbit around Venus.
The Venus Express science team will be watching, and broadcasting live, from the Arctic island of Spitsbergen.
"We're very excited about watching the transit from such a unique European location while Venus Express is in orbit around the transiting planet," Venus Express project scientist Håkan Svedhem said in a statement. "During the transit, Venus Express will make important observations of Venus' atmosphere that will be compared with ground-based telescopes to help exoplanet hunters test their techniques."
---