Mite/virus combo killing honeybees, say scientists
A new study links colony collapse disorder to a virus carried by a mite that feeds on honeybees.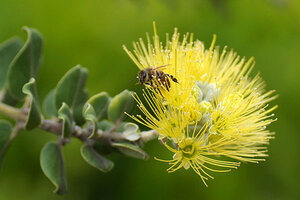 Ethel M. Villalobos
The spread of a parasitic mite through a honeybee colony provides a one-two punch that's taking down colonies throughout the world, now including Hawaii. A normally mild virus can be devastating to bees when the mites are present, a new study reports.
The mite, called Varroa, is spreading from hive to hive among the Hawaiian Islands. In other parts of the world, the coincidence of the mite and deformed wing virus has been linked to so-called colony collapse disorder, though researchers weren't sure how the two infections, normally not very deadly, were able to kill entire hives.
"During the past 50 years, the global spread of the ectoparasitic mite Varroa destructor has resulted in the death of millions of honeybee (Apis mellifera) colonies," the researchers write in their study, detailed today (June 7) in the journal Science.
Mighty mite
Like a teensy vampire, a Varroa mite attaches to the body of the bee and sucks out its internal, bloodlike fluid. During this sucking, the mite passes deformed wing virus (DWV) directly into its host's body. Once the bees start to show the resulting deformation, they usually die within 48 hours.
The mites have been infesting bees on the Hawaiian island of Oahu since 2007. That same year, 274 of 419 colonies on Oahu collapsed.
---