Global warming spells bad news for emperor penguins, study finds
Researchers at the Woods Hole Oceanographic Institution have found that melting sea ice could lead to dramatic declines in populations of emperor penguins.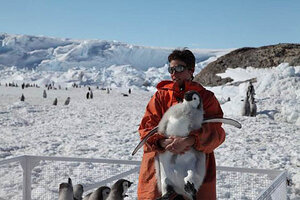 Courtesy of Stephanie Jenouvrier, Woods Hole Oceanographic Institution
Emperor penguins depend on the sea ice that rings the continent of Antarctic, so it's no surprise that global warming, which is expected to melt some of that ice, may be bad news for these flightless, 4-foot (1.2-meter) tall birds.
Since detailed information on most colonies is not available, the research focused on one well-studied colony of emperor penguins, at Terre Adélie in East Antarctica, to get an idea of what might happen to emperor penguins over the course of this century.
Their results aren't reassuring; they project this colony is likely to decline from 3,000 breeding pairs to 575 by 2100, a potentially "huge decline," said lead researcher Stéphanie Jenouvrier, a biologist at the Woods Hole Oceanographic Institution.
Sea ice is important for penguins and for other things living around Antarctica. For instance, krill, the tiny shrimplike animals that penguins and other animals eat, feed on algae that grow on the underside of sea ice. What's more the penguins raise their young on the ice during the harsh Antarctic winter. However, this makes getting close enough to the birds to study difficult for scientists.
In work published in 2009, researchers with the British Antarctic Survey used satellite images to identify 38 locations with colonies around the continent by looking for the stains the emperor penguins' droppings left on the white ice.
---