Does Saturn's moon hide underground oceans?
Observations of how Titan warps as it orbits Saturn provides strong evidence for a liquid ocean buried under the surface of the gas giant's largest moon.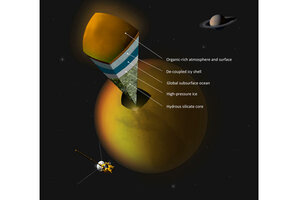 A. Tavani
The best evidence yet for a liquid ocean buried under the surface of Saturn's moon Titan has been found, scientists report.
New observations show that Titan warps during the gravitational tides it experiences, suggesting an ocean sloshes under its outer shell. This ocean has long been theorized but never confirmed.
Titan is the biggest of the more than 60 known moons orbiting Saturn, and is larger than the planet Mercury. Scientists have long suspected that an ocean might lurk under Titan's surface, as well as under Jupiter's moons Ganymede, Callisto and Europa. Previous observations have shown that the entire surface of Titan appears to be sliding around like cheese over tomato sauce on a pizza.
Now the way Titan flexes under Saturn's gravity suggests the moon is indeed home to a vast underground ocean of either water or a water-ammonia mix. [Photos: The Rings and Moons of Saturn]
---