Heat wave: Eastern US to see 'a resurgence of the heat,' say forecasters
A storm amid record heat has left millions from Illinois to Virginia without electricity.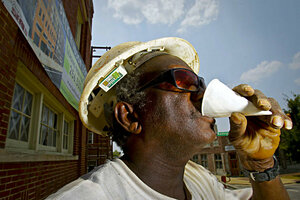 The Huntsville Times,Glenn Baeske/AP
Nearly 1.4 million homes and businesses in the eastern United States remained without power amid a heat wave on Tuesday, and storm damage forced many Fourth of July celebrations to be canceled.
Violent weekend storms and days of record heat have killed at least 22 people in the United States since Friday. Some died when trees fell on their homes and cars, and heat stroke killed others.
Utilities warned that some people could be without power - and unable to run their air conditioners - for the rest of the week. More than 1.4 million homes and businesses from Illinois to Virginia remained without electricity on Tuesday morning.
In hard-hit Washington, Mayor Vincent Gray expressed frustration with the slow pace of repairs. Some 19,000 customers of local power company Pepco are still without power and the city is distributing food to people who cannot cook at home.
"We have had power outage after power outage in the District of Columbia. Frankly, the people are just fed up with it. I don't have any power in my own home," Gray told CNN.
Thomas Graham, Pepco regional president, defended the utility's performance, saying three of four customers without power had had it restored.
"We're working 24/7 as hard as we possibly can, but it was a catastrophic event and our system (was) literally devastated by that storm," he said.
---