Will NASA's Mars rover crash?
For NASA's Curiosity Mars rover to arrive undamaged on the surface of the Red Planet, a lot of things will have to go right.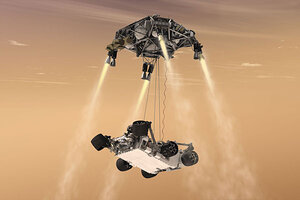 JPL-Caltech/NASA/AP
So far, the scorecard for missions to Mars reads attempts 40, successes 14.
Not so good.
Well over 60 percent of Earth missions to Mars have failed, ever since the pioneering efforts of the former Soviet Union in the 1960s and including Britain's high-profile Beagle 2 space probe.
As NASA's latest mission to Mars heads closer to the Red Planet, the head of NASA's Mars Exploration Program, Doug McCuistion, acknowledged Tuesday that many things could still go wrong before its scheduled Aug. 6 landing date.
The one thing that worries him most is if the spacecraft's heat shield will detach as planned when the U.S. Mars Science Laboratory mission sets down a large, mobile laboratory on Mars — the rover Curiosity.
"If you look at the scorecard, Earth is doing less than 50 percent; less than 50 percent of Earth's missions to Mars have been successful," McCuistion, a former U.S. fighter pilot, said at the Farnborough Airshow south of London.
---