First-ever video of snow leopard moms and cubs in Mongolia
Usually secretive snow leopard moms and cubs revealed in first-ever video in Mongolia.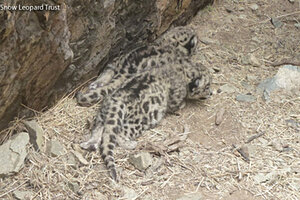 Panthera/Snow Leopard Trust
The dens of two snow leopard mothers and their cubs have been located in Mongolia for the first time, with new, unprecedented video showing the mothers and their young inside the den, a conservation organization announced yesterday (July 12).
Snow leopard dens are difficult to find because of the animals' secretive, elusive nature and the difficult, mountainous terrain in which they live. Finding the dens is an important step in learning more about the reproductive behavior and the young of this endangered species.
"We have spent years trying to determine when and where snow leopards give birth, the size of their litters, and the chances a cub has of surviving into adulthood," said Tom McCarthy, executive director of the snow leopard program at Panthera, a wild cat conservation organization.
Most of what has been previously known about snow leopards and their young has been gleaned from animals in zoos, where litters typically consist of one to three cubs. How big wild litters are and how the young fair in the wild — where they are subject to predation, disease, poaching and capture for the illegal wildlife trade — was not known.
The dens were discovered in Mongolia's Tost Mountains, where locals refer to the creatures as "Asia's Mountain Ghost."
A team of scientists from Panthera and the Snow Leopard Trust entered the dens when the mothers were away hunting. They found that the first had two cubs and the second, one. All three cubs were weighed, measured and photographed and handled with extreme care, according to a Panthera release. Two were fixed with tiny microchip ID tags (about the size of a grain of rice) that were placed under their skin for future identification.
---