NASA probe spots bizarre lightning storm on Saturn
NASA's Cassini spacecraft orbiting Saturn has spotted intense blue daytime lightning on the ringed planet. Previously lightning had only been detected on Saturn's night side.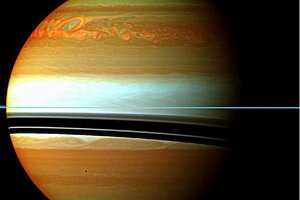 NASA/JPL-Caltech/SSI
A NASA spacecraft orbiting Saturn has captured an amazing view of lightning in broad daylight on the ringed planet.
The Cassini orbiter captured the daytime lightning on Saturn as bright blue spots inside a giant storm that raged on the planet last year. NASA unveiled the new Saturn lightning photos Wednesday (July 18), adding that the images came as a big surprise.
"We didn't think we'd see lighting on Saturn's day side —only its night side," said Ulyana Dyudina, a Cassini imaging team associate at the California Institute of Technology in Pasadena, in a statement. "The fact that Cassini was able to detect the lightning means that it was very intense."
Cassini spotted the daytime lightning while observing a giant Saturn storm on March 6, 2011. A blue filter on the spacecraft's main camera recorded the lightning flashes, and scientists then exaggerated the blue tint in order to pin down the lightning's location and size, researchers said. [More Photos of Saturn's Monster Storm]
---