Five myths about Mars
No planet in our solar system has been linked to more misconceptions than Mars, where NASA's Curiosity rover is scheduled to touch down on Sunday night. Here are the five most persistent myths about the Red Planet.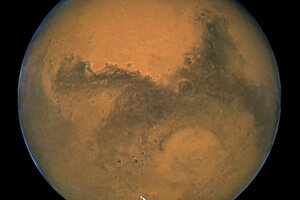 NASA/ESA
Earth's neighbor Mars is perhaps the most-studied planet beside our own in the solar system, with two robot rovers, Spiritand Opportunity, exploring the surface since 2004.
With Spirit no longer sending communications back to Earth but Opportunity still chugging along, NASA plans to land a third rover on the Martian surface; on Sunday, Aug. 5 at 10:30 p.m. PDT (1:30 a.m. EDT, 0530 GMT), Curiosity will carry 10 times the mass of scientific instruments as the earlier rovers to Mars, offering an opportunity to learn more than ever about the Red Planet.
Before Mars exploration began, though, limited information led to major misconceptions about the planet. Here are some of the myths that have persisted, and in some cases still persist, about Mars. [Full Mission Coverage of Mars Curiosity]
Myth #1: There's a face on Mars
In 1976, NASA's Viking 1 spacecraft snapped a photo of a Martian mesa that turned out rather eerie. Staring back from the surface of Mars was what appeared to be a human face.
Scientists shrugged the images of the "Face on Mars" off as a trick of light and shadow, but the public went mad. Conspiracy theorists figured the face was evidence of life on Mars. Supermarket tabloids loved it. It even showed up in a 1993 episode of television show "The X-Files" (episode: "Space").
---