A star is born: Mars rover Curiosity has legions of fans all a-Twitter
NASA's Mars rover Curiosity began tweeting to avid followers years before it dramatically landed on the surface of Mars. But the number of its followers just skyrocketed.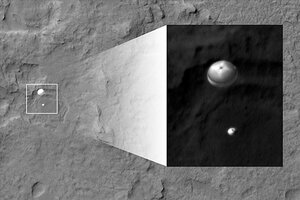 Courtesy of NASA/Reuters
Meet Mars's most charming resident: the NASA's Rover Curiosity.
How do we know it's charming? As the Rover Curiosity touched down on Mars early Monday morning, the Mini Cooper-sized crawler let its Twitter fans around the world follow its descent to the Red Planet with a stream of lively tweets that sought to put a human face on a scientific quest.

"I'm safely on the surface of Mars," Curiosity said. "GALE CRATER I AM IN YOU!!!"

The images sent back from Mars – always stunning in an understated, literally otherworldly kind of way – are delivered with a smile by the cheery Curiosity.

"No photo or it didn't happen? Well lookee here, I'm casting a shadow on the ground in Mars' Gale crater," it tweeted with this attached image.
The six-wheeled rover even shed some light on what its human friends were doing back in NASA mission control as it was working hard not to obliterate itself on Mars's surface. That is, cracking open jars of goobers.

"Pass the Peanuts! Everyone's eating peanuts, right?" Curiosity said from millions of miles into space. "They're an [NASA Jet Propulsion Laboratory] good-luck tradition since Ranger 7 in 1964."
---