Mirrors completed for successor to Hubble telescope
Made by Ball Aerospace, the 18 beryllium mirror segments for the James Webb Space Telescope are ready to be delivered to NASA.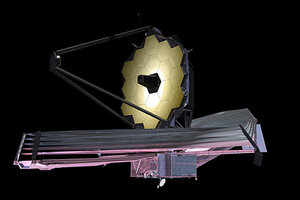 NASA
One of the most challenging parts of NASA's huge new space telescope, the building of its ultrasophisticated mirror system, is now finished, and the mirrors are ready for delivery.
Send-off ceremonies held here at Ball Aerospace on Aug. 15 saluted the completion of 18 beryllium primary mirror segments for the James Webb Space Telescope (JWST), which is billed as the successor to NASA's venerable Hubble Space Telescope. Ball is also responsible for JWST's secondary and tertiary mirrors, a fine steering mirror assembly and several engineering development units.
Ball is the principal subcontractor to manufacturer Northrop Grumman for the JWST optical technology and lightweight mirror system at the heart of the telescope — an astronomical project that is now pegged to cost roughly $8.7 billion and to be lofted in the fall of 2018.
Success story
The JWST mirror system includes 18 gold-coated, ultrasmooth, 4.2-foot (1.3 meters) hexagonal mirror segments that comprise the 21.3-foot (6.5 m) primary mirror. When launched, it will be the largest mirror ever flown in space. [Photos: Building the James Webb Space Telescope]
Down on the floor where the packaged mirrors are ready for shipping to NASA, labels such as "do not stack…this side up" and "critical space flight hardware" are visible.
---