Study: Low-calorie diets don't necessarily make you live longer, if you're a monkey
A 25-year study of rhesus macaques overturns previous findings that calorie-restricted diets tend to increase monkey longevity.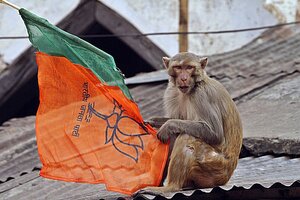 AP Photo/Rajesh Kumar Singh
Reassuring news if you're a monkey with an appetite: New research suggests that those extra bananas won't necessarily shorten your lifespan.
A previous study had found otherwise. Research begun in 1989 at the Wisconsin National Primate Research Center in Madison, Wisc., found that rhesus macaques placed on a diet with 30 percent fewer calories than is considered normal (for a monkey) tended to escape age-related monkey illnesses. Those investigators found that 13 percent of the perpetually hungry monkeys died from age-related causes, compared with 37 percent of the well-fed control group.
The results of the Wisconsin study, which was published in 2009, are consonant with earlier research, dating from the 1930s, indicating that other animals, from mice to roundworms, placed on calorie-restricted diets tended to be less susceptible to aging.
Among human primates, these studies have spurred a cottage industry of 'longevity diets'. There has never been a long-term clinical study of gastronomically mingy humans, so we don't know whether or not it actually extends human life.
And now new data published in Nature this week complicates the picture even more. A 25-year study of rhesus monkeys at the National Institute on Aging in Bethesda, Md., found no increase in the lifespans of the monkeys that were placed on restricted diets.
---