Mini-Great Pyramid of Giza on Mars intrigues Curiosity rover team
A small, pyramid-like rock about 1,000 feet from the Curiosity rover's landing site on Mars appears to present the perfect opportunity for scientists to test how two key instruments work together.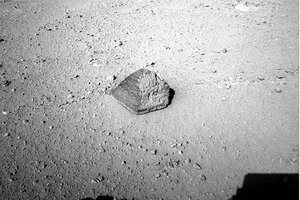 JPL-Caltech/NASA/AP
NASA's Mars rover Curiosity is eying a target for the first tandem test of two instruments crucial to the rover's mission of determining whether its new home, Gale Crater, as well as the crater's central Mt. Sharp, could have hosted life early in the planet's history.
At 16 inches wide and about 10 inches tall, the target rock looks like a miniature Great Pyramid of Giza, with one face artisans neglected to maintain.
But it's just the ticket for testing the rover's ChemCam and and Alpha Particle X-Ray Spectrometer (APXS), a complementary set of tools for determining the composition of the rocks and soils the rover will encounter during its two-year prime mission on Mars.
Six weeks into its visit to the Red Planet, Curiosity is performing well, noted Richard Cook, deputy project manager for the Mars Science Laboratory mission. It has traveled 289 meters (948 feet) from its touchdown spot at Bradbury Landing on the floor of Gale Crater.
---