Startling discovery debunked: bacteria can't survive on arsenic
A two-year old report suggested that one type of bacteria could survive by assimilating arsenic – a finding that held implications for the search for life in the cosmos. But new research contradicts those conclusions.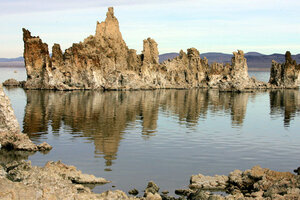 Ben Margot/AP/File
Nearly two years ago, a team of biologists claimed to have discovered new bacteria that not only could survive in an environment rich in arsenic, it could fold the toxic element into the very heart of its biochemistry – substituting to small extent arsenic for phosphorus – and survive.
Some astrobiologists were tantalized, suggesting that the results held the potential to broaden the range of habitats for life in the cosmos. But the research also generated intense push-back from other biologists, who said the results flouted well-established recipes for biologically critical molecules. And, they said, they found serious flaws in the experiments that led the team to its conclusions.
Now, an international team of scientists says it has found that the bacteria – discovered in the arsenic-rich mud of California's Mono Lake – not only have a much stronger preference for phosphorus than arsenic, but they also preferentially cull even tiny amounts of phosphorus from surroundings significantly enriched in arsenic. In other words, what may have looked like bacteria thriving on arsenic actually was bacteria efficient at feeding on the relatively low levels of phosphorus.
Phosphorus, along with oxygen, hydrogen, sulfur, nitrogen, and carbon, constitute the main ingredients for the complex molecules from which organic life is built.
The results represent the "nail in the coffin" for the idea that these bacteria can incorporate arsenic into their proteins, enzymes, and even into their DNA as a phosphate stand-in, as the initial study claimed, according to Dan Twafik, a researcher at the Wiezmann Institute of Science in Israel in an interview with the journal Nature. Nature is publishing the results in Thursday's issue. Dr. Twafik was part of the team undertaking this latest study.
The study comes on the heels of two other papers, published in July in the journal Science, which tried to replicate the original team's experiment and came up empty.
---