Space shuttle Endeavour: A final 2 m.p.h. mission through Los Angeles
The space shuttle Endeavour began its 2-mph crawl through streets of Los Angeles at about 2 a.m. Friday. A retired laser scientist uses Endeavour's terrestrial crawl as a teaching moment for Los Angeles school children.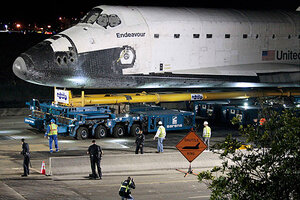 REUTERS/Jason Redmond
The space shuttle Endeavor is making its final journey to a Los Angeles museum.
The giant spacecraft began its 2-mph crawl through streets near Los Angeles International Airport at about 2 a.m. Friday. Crowds in the neighborhood lined the streets to watch it being hauled past. Some called it a once-in-a-lifetime sight.
About 400 trees and many traffic lights were taken down to make room for the five-story-tall shuttle with its 78-foot wingspan.
The shuttle's 160-wheeled carrier stopped briefly so that crews could prune more trees. The shuttle will go 3 miles and then stop for nine hours to prepare for a final 9-mile roll the California Science Center.
RECOMMENDED: Are you scientifically literate? Take the quiz
As the space shuttle Endeavour weaves through working-class communities on its way to its retirement home, Hildreth "Hal" Walker Jr. wants the children he tutors to remember a few names: Ronald McNair. Mae Jemison. Charles Bolden.
A retired laser scientist who had a role in the Apollo 11 mission, Walker took the opportunity of the two-day terrestrial crawl through predominantly African-American and Latino neighborhoods in Los Angeles County to highlight the role that minorities played in the shuttle program.
"We really have a job to do to show them the accomplishments of the people whose shoulders they're standing on," Walker said.
---