For Mars rover Curiosity, at last, it's dinnertime. On the menu: dirt.
It's period of painstaking preparations over, the Mars rover Curiosity has at long last ingested a sample of soil for analysis by its on-board chemistry lab. That's what it came 352 million miles for.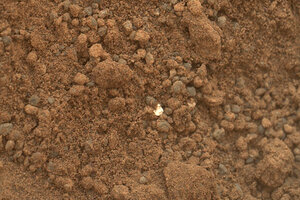 Courtesy of JPL-Caltech/MSSS/NASA/AP
After 70 days on Mars, NASA's rover Curiosity finally is doing what it's paid the big bucks to do: Eat dirt.
In a mission where progress so far is being measured in an excruciating series of baby steps, the rover has for the first time moved a soil sample from the Martian surface to CheMin – one of two mini laboratories inside Curiosity's chassis that are expected to reveal the minerals that comprise the red planet's ubiquitous dust.
Such a seemingly simple feat has been a long time coming, notes John Grotzinger, a planetary geologist at the California Institute of Technology in Pasadena and the Mars Science Laboratory's project scientist.
Researchers have measured soil properties beginning with the Viking landers in the mid 1970s and with each lander since – each in different locations. This has yielded the observation that "there's something about the soil so far that's been very generic to Mars," he says.
"What's really exciting about this sample that just got dumped into CheMin" and later will be scrutinized by a second lab package on the rover "is that they are going to be able to analyze once and for all the mineral composition" of this material "that swirls around the planet," he says.
It's the first test of CheMin's ability to uncover the elements in the soil grains and identify minerals in them following the rover's 352-million-mile, nearly nine-month journey to Mars. The mission's goal is to determine if Gale Crater and its towering, central Mt. Sharp could have hosted microbial life early in the planet's history.
Central to that task is the ability to deliver samples to CheMin and the second internal lab package, SAM. SAM analyzes gases from the atmosphere and from heated samples of soil and rock to hunt for organics that would signal a hospitable ancient habitat.
---