Orionid meteor shower: Watch for fireballs during weekend peak
One of the more spectacular meteor showers of the year peaks overnight Saturday, with perhaps 60 visible meteors an hour. Fireballs – any meteor brighter than Venus – are likely as Orionids plunge into the atmosphere at 148,000 miles per hour.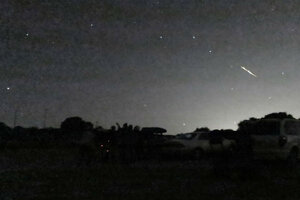 Phil Terzian/AP
Skywatchers in the northern and southern hemispheres are in for a treat overnight Saturday, when the annual Orionid meteor shower – an intimate encounter with remnants of comet Halley's tail – is expected to peak.
Weather willing, at least 25 meteors an hour should be visible in the predawn hours Sunday morning. By then, a crescent moon will have set, allowing a larger number of fainter meteors to stand out against the night sky.
But NASA's all-sky cameras already are detecting meteor rates that suggest the show could be better, perhaps approaching 60 meteors an hour, says Bill Cooke, a meteor specialist at the NASA's Marshall Space Flight Center in Huntsville, Ala., and head of the agency's Meteoroid Environment Office.
"I'm cautiously optimistic," he says of the shower, which began Oct. 17 and runs through Oct. 25 at a sky above you.
As if on cue, a fireball visible throughout much of central and southern California streaked across the sky Oct. 17, shortly before 8 p.m. Pacific Daylight Time. Observers reported three sonic booms tied to the fireball after it disappeared.
However, the event may have had little to do with the meteor shower. Long-time meteor observers, including Mike Hankey with the American Meteor Society, point out that meteors from comets tend to be tiny grains of ice and dust. This reflects the composition of the comets that shed the detritus as they make their closest approach to the sun and heat up. This material vaporizes at very high altitudes.
---