Lorca 5.1 earthquake: Blame Spain's farmers and their deep wells?
Spain's worst earthquake in 50 years may have been triggered by farmers drilling deep wells to water their crops, says a new study. With the rise in 'fracking,' man-made earthquakes are a focus of seismic study.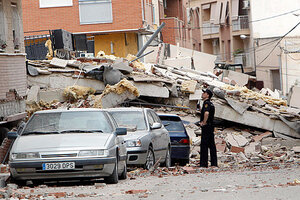 (AP Photo/Alberto Saiz, File)
Farmers drilling ever deeper wells over decades to water their crops likely contributed to a deadly earthquake in southern Spain last year, a new study suggests. The findings may add to concerns about the effects of new energy extraction and waste disposal technologies.
Nine people died and nearly 300 were injured when an unusually shallow magnitude-5.1 quake hit the town of Lorca on May 11, 2011. It was the country's worst quake in more than 50 years, causing millions of euros in damage to a region with an already fragile economy.
Using satellite images, scientists from Canada, Italy and Spain found the quake ruptured a fault running near a basin that had been weakened by 50 years of groundwater extraction in the area.
RECOMMENDED: Are you scientifically literate? Take the quiz
During this period, the water table dropped by 250 meters (274 yards) as farmers bored ever deeper wells to help produce the fruit, vegetables and meat that are exported from Lorca to the rest of Europe. In other words, the industry that propped up the local economy in southern Spain may have undermined the very ground on which Lorca is built.
The researchers noted that even without the strain caused by water extraction, a quake would likely have occurred at some point.
But the extra stress of pumping vast amounts of water from a nearby aquifer may have been enough to trigger a quake at that particular time and place, said lead researcher Pablo J. Gonzalez of the University of Western Ontario, Canada.
---