Will election results affect NASA funding?
Predictions say NASA funding is unlikely to rise under either a Democratic or Republican president. However, NASA's priorities under Obama or Romney might be different.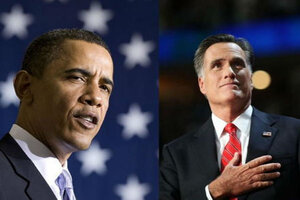 Obama: NASA; Romney: www.MittRomney.com
The outcome of today's (Nov. 6) presidential election is unlikely to have a profound impact on the future direction of American spaceflight and exploration, experts say.
While Republican candidate Mitt Romney has revealed few details about his space plans, a Romney Administration probably wouldn't dramatically alter the path NASA is currently pursuing under President Barack Obama, according to some observers.
"There are unlikely, as a result of the election, to be seismic changes," said space policy expert John Logsdon, a professor emeritus at George Washington University.
The status quo
In 2010, President Obama directed NASA to work toward getting astronauts to a near-Earth asteroid by 2025, then on to the vicinity of Mars by the mid-2030s. [Gallery: President Obama and NASA]
To reach these deep-space destinations, the agency is developing a huge rocket called the Space Launch System and a crew capsule called Orion. NASA hopes the SLS-Orion combo will begin launching astronauts by late 2021.
---