NASA: Astronauts could survive Mars radiation
Radiation on the surface of the Red Planet is roughly similar to that experienced by astronauts on the international space station, report NASA scientists. The findings help researchers understand the planet's capacity for supporting life and will assist NASA in preparations for future manned flights to the planet.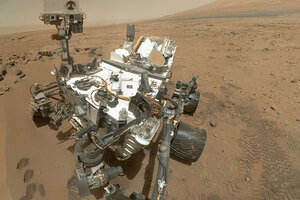 NASA/JPL-Caltech/Malin Space Science System
Radiation levels at the Martian surface appear to be roughly similar to those experienced by astronauts in low-Earth orbit, NASA's Mars rover Curiosity has found.
The rover's initial radiation measurements — the first ever taken on the surface of another planet — may buoy the hopes of human explorers who may one day put boots on Mars, for they add more support to the notion that astronauts can indeed function on the Red Planet for limited stretches of time.
"Absolutely, astronauts can live in this environment," Don Hassler, of the Southwest Research Institute in Boulder, Colo., told reporters during a news conference today (Nov. 15).
Hassler is principal investigator of Curiosity's Radiation Assessment Detector instrument, or RAD. RAD aims to characterize the Martian radiation environment, both to help scientists assess the planet's past and current potential to host life and to aid future manned exploration of the Red Planet. [Video: Curiosity Takes First Cosmic Ray Sample on Surface]
Since Curiosity landed on Mars in August, RAD has measured radiation levels broadly comparable to those experienced by crewmembers of the International Space Station, Hassler said. Radiation at the Martian surface is about half as high as the levels Curiosity experienced during its nine-month cruise through deep space, he added.
---