Leonid meteor shower: When and where to watch
Leonid meteor shower: The meteor shower peak will come tonight (3 a.m. E.T. Saturday). The Leonid meteor shower is a product of the Earth passing through the tail of the Tempel-Tuttle comet.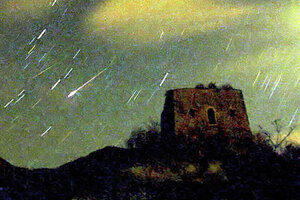 (AP Photo/Xinhua, Li Jundong)
This weekend brings us the return of the famous Leonid meteor shower, a meteor display that has brought great anticipation and excitement to night sky watchers around the world.
This will be a favorable year to look for the Leonid meteor shower because the moon will be only crescent and will have set in the west long before the constellation Leo begins to rise into the night sky. The Leonids appear to radiate out of Leo (hence their name), and with the moon out of the sky completely, viewing conditions could be perfect for stargazers with clear weather and dark skies.
The Leonid meteors are debris shed into space by the comet Tempel-Tuttle, which swings through the inner solar system at intervals of 33 years. With each visit the comet leaves behind a trail of dust in its wake. Much of the comet's old dusty trails litter the mid-November part of Earth's orbit and the Earth glides through this debris zone every year.
RECOMMENDED: Are you scientifically literate? Take the quiz
Occasionally, Earth passes directly through an unusually concentrated dust trail, or filament, which can spark a meteor storm resulting in thousands of meteors per hour. That's what happened in 1999, 2001 and 2002. Since the Tempel-Tuttle comet passed the sun in 1998, it was in those years immediately following its passage that the Leonids put on their best show.
But now, the comet and its dense trails of dust have all receded far outside Earth's orbit and back into the outer regions of the solar system. So odds are that there is little, if any chance of any unusual meteor activity. [Photographer Spots Early Leonid Meteors (Video)]
Peak times to see the Leonids
---