Four planets in 'habitable zones' spotted within spitting distance of Earth
Astronomers say they used a new statistical technique to find four possible super-Earths orbiting in the habitable zone of two stars within 22 light-years of Earth, Gliese 667C and tau Ceti.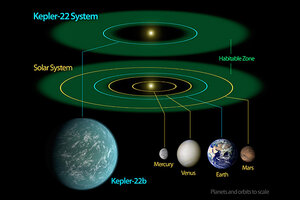 NASA/Ames/JPL-Caltech
Astronomers say they have uncovered evidence for what could be four super-Earth planets orbiting within the habitable zones of two stars within 22 light-years of Earth.
Three of those candidate planets are among a tightly packed clutch of five that orbit Gliese 667C, part of a triple-star system 22 light-years away in the constellation Scorpius. The other possible planet is one of five orbiting tau Ceti, a sun-like star 12 light-years away in the constellation Cetus.
Taken together, the detections not only add to accumulating evidence that planets look to be more common than stars – and that planets in habitable zones could be more common than previously thought, some of researchers reporting the finds say.
The finds also illustrate the power of improved statistical tools to boldly uncover candidate planets where no planet had been found before.
The evidence for these candidate planets requires independent confirmation, the researchers caution. Still, the tools represent "a real breakthrough," says Steven Vogt, an astronomer at the University of California at Santa Cruz and a member of the team reporting the results for tau Ceti. The approach the team took leaves only about one chance in 3 million that the detections could herald something other than a planet.
Since the mid-1990s, astronomers have bagged more than 850 extra-solar planets. The ultimate goal is to find rocky planets with Earth-like masses orbiting within their stars' habitable zones – a region where under the right conditions, liquid water can form stable pools on the surface. Liquid water is considered an essential ingredient for organic life.
---