Iran's space monkey business: A plausible explanation?
Iran admits that one of two official photos of Iran's first monkey in space depicted the wrong monkey. It showed an archive photo of one of the alternate monkeys. But one expert says Iran's still lying about one of the monkeys.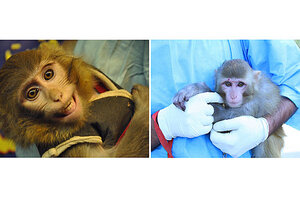 (AP Photo/ ISNA, Borna Ghasemi, Mohammad Agah)
One of two official packages of photos of Iran's famed simian space traveler depicted the wrong monkey, but a primate really did fly into space and return safely to Earth, a senior Iranian space official confirmed Saturday.
The two different monkeys shown in the photos released by Iran's state media caused some international observers to wonder whether the monkey had died in space or that the launch didn't go well.
One set of pictures showed a relatively dark-haired monkey. Another showed a different monkey — strapped in a pod — that had light gray hair and a distinctive red mole over its right eye (image on right).
Mohammad Ebrahimi told the The Associated Press that the monkey who traveled in space was named "Pishgam," the Farsi word for pioneer. Initially, the Iranian media said "Pishgam" was the rocket that took him on a 20-minute journey into space on Monday.
Ebrahimi said one set of pictures showed an archive photo of one of the alternate monkeys. He said three to five monkeys are simultaneously tested for such a flight and two or three are chosen for the launch. Finally, the one that is best suited for the mission and isn't stressed is chosen for the voyage.
State TV pictures seen by AP show the dark-haired monkey before and after the space flight, but a package of still pictures released by authorities showed the other monkey with the mole.
"I say this with certainty that the monkey is in good health and the space flight didn't have any physical effect on Pishgam," Ebrahimi said. "Some of the photos released by one of news agencies were not related to the time of flight. They were archive photos of the monkeys being prepared for the launch."
---