Shark-eating whales? Scientists identify four new whale species
Teeth of a fossilized whale called 'Willy' are severely worn down, suggesting that this previously unknown species of whale may have eaten large animals like sharks.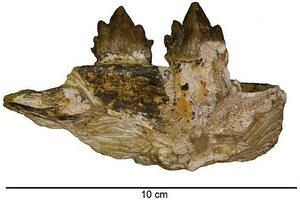 Cooper Archaeological and Paleontological Center / TechNewsMedia
Fossils uncovered during construction of a roadway in Southern California have revealed four new species of ancient whales, according to research presented here at the annual meeting of the American Association for the Advancement of Science (AAAS) on Sunday (Feb. 17).
One of the species, dubbed "Willy," is much larger than the others and may have eaten sharks, said Meredith Rivin, a paleontologist at the Cooper Archaeological and Paleontological Center in Fullerton, Calif., and part of the team that studied the fossils.
The fossils were excavated a decade ago, but are only now giving up their secrets, in part because it takes so long to separate the fossils from the rocks, Rivin said. "For the last 10 years… I've been trying to 'free Willy,'" Rivin said.
Whale teeth
These animals were toothed, baleen whales, and swam the oceans from about 17 million to 19 million years ago, Rivin said. That's quite a surprise, since this group was thought to have gone extinct about 5 million years earlier, she said.
---