Four-winged birds? Feathery-legged fossils date back to dinosaur days.
Four-winged birds may have flown over Asia about 100 million years ago. New fossils show that four different types of birds had stiff feathers on their legs.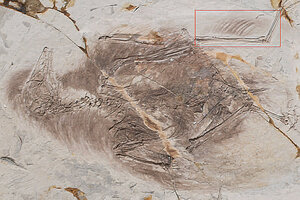 Science/AAAS/LiveScience
More than 100 million years ago, birds living in what is now China sported wings on their legs, a new study of fossils suggests.
Researchers found evidence of large leg feathers in 11 bird specimens from China's Shandong Tianyu Museum of Nature. The feathers suggest that early birds had four wings, which may have played a role in the evolution of flight, scientists report in a study published today (March 14) in the journal Science.
Most scientists believe that birds evolved from other feathered dinosaurs; this belief is supported by discoveries of fossils of feathery birdlike creatures. In 2000, scientists discovered a nonavian dinosaur with feathers on its arms and legs, called Microraptor, which could probably fly. In addition, specimens of Archaeopteryx, a transitional fossil between modern birds and feathered dinosaurs, show faint featherlike structures on their legs, but the signs are poorly preserved.
Now, leg feathers have been spotted in the 11 museum fossils that had been collected from the Lower Cretaceous Jehol formation in Liaoning, China, from a period about 150 million to 100 million years ago. The feathers are stiff and stick straight out from the birds' legs, and have a large enough surface area to be aerodynamic, the researchers say.
---