NASA's other rocket for hire, Antares, is poised for test launch
The Antares rocket, built by Orbital Sciences Corp., is set for a first test launch Wednesday evening, weather permitting. Its maker is, like SpaceX, under contract with NASA to ferry cargo to the International Space Station.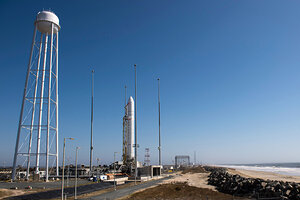 Courtesy of Bill Ingalls/NASA/Reuters
Orbital Sciences Corp., one of two companies NASA has hired to ferry cargo to the International Space Station (ISS), is set for the first test launch of a new rocket it has built to handle the task.
Liftoff of the rocket, dubbed Antares, currently is scheduled for early Wednesday evening EDT from a new launch pad built at NASA's Wallops Island Flight Facility on the Virginia coast.
"It's going to be the biggest and loudest and brightest thing that's ever been launched from Wallops," says Frank Culbertson, a former NASA astronaut and the executive vice president who oversees Orbital Sciences' advanced-programs group. The facility typically launches sounding rockets, research balloons, and conducts aviation research. It hasn't been the site of an orbital mission since 1985.
This mission's goal is to place a dummy version of the company's Cygnus cargo carrier into orbit. If it succeeds, the company aims to launch a loaded cargo module to the station this summer in a demonstration of its ability to meet NASA's standard for operating at the space station. If all goes well on that mission, the company plans the first formal delivery of cargo in the fall, under a $1.9-billion contract with the space agency.
For Orbital Sciences, Wednesday's launch represents a vital milestone along its path from late entry into NASA under the agency's Commercial Orbital Transportation Services (COTS) program to launch pad.
---