Scientists discover ridiculously small insect
With a length about 2.5 times the width of a human hair, Tinkerbella nana was spotted in a Costa Rican forest.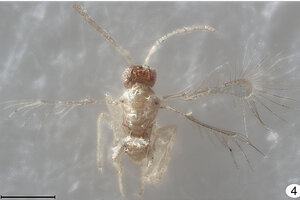 John T. Huber
A pair of scientists have discovered a new species of tiny insect, a miniscule wasp that lives in the forests of Costa Rica.
Named Tinkerbella nana, after the Peter Pan character, the species measures no more than 250 micrometers in length. By comparison, the average human hair is about 100 micrometers wide.
According to a paper published Thursday in the Journal of Hymenoptera Research, the insects were collected by John S. Noyes, an entomologist at London's Natural History Museum, who swept a mesh net through vegetation at Costa Rica's La Selva Biological Station. Samples from the net were then examined under a microscope.
The species is a fairyfly, a type of wasp found worldwide. Most fairyflies are parasites that lives on other insects' eggs, but the researchers know almost nothing about Tinkerbella's behavior.
As small as Tinkerbella is, its not the smallest flying insect. That distinction goes to Kikiki huna, a fairlyfly native to the Hawaiian islands that measures just 150 micrometers. The Canadian Forestry Service's John T. Huber, the primary author on the Tinkerbella paper, was also the principal discoverer, in 2000, of Kikiki.
---