Can your iPhone's digital footprints reveal your physical location?
Users of iPhones may be uniquely vulnerable to a new kind of cyberstalking that can reveal their real-life whereabouts, if they leave GPS and Wi-Fi activated.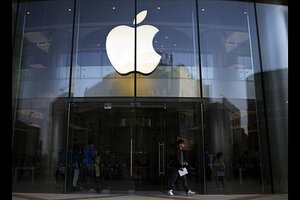 Alexander F. Yuan / AP
An Australian computer-security expert has created an application that lets anyone see the locations of the last three Wi-Fi access points used by an Apple iPhone or iPad — information that could be used to deduce where the iOS device user lives.
Melbourne-based researcher Hubert Seiwert's iSniff GPS, now freely available for anyone to download and use, combines three different Apple iOS features.
None of the features pose any threat to privacy on their own, but when combined could tell strangers a lot about you.
"This could be used to locate ... where people live," Seiwert told SC Magazine.
Three's a crowdsource
The first feature Seiwert used is well-known. Apple iOS devices that have both Wi-Fi and GPS turned on send the names and locations of all Wi-Fi access points they encounter back to the Apple mothership. The devices don't need to be connected to a specific access point for this to happen.
This feature helps Apple's mapping services. Google does the same thing with Android devices. Users of both kinds of devices can turn the data-sharing off.
---