Tornado season off to a late but deadly start
Tornado season usually starts in mid-April, but this year's first big tornado will go down in the record books not only for its tardiness but for its deadly scale: It reached half a mile wide and killed at least 51, including 20 children.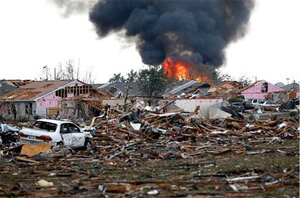 Sue Ogrocki / AP
Deadly tornadoes that have raked communities in Middle America over the past week, including Monday's massive twister that carved a path of destruction through the Oklahoma City suburb of Moore, belie what had been a relatively quiet start of the 2013 tornado season.
In fact, this is the longest the U.S. has gone into May without registering an EF1 or stronger tornado, which are the types that can cause damage. That's according to Harold Brooks, a research meteorologist at the National Severe Storms Laboratory.
An unusually cool spring kept the funnel clouds at bay until mid-May, or about a month after they'd typically begin their deadly dance in this part of the country. But that calm melted away with the recent rise in temperatures and humidity in the Plains and Midwest that produced ideal temperatures for the tornadoes that have killed people in Oklahoma and Texas since last Wednesday.
"What had happened over the last week, and for quite a while there, was a ridge in the atmosphere that stayed over the western United States, and that is a pretty unfavorable pattern for tornadoes," said Brooks. "But, over the last few days, the ridge has moved east and the trough flow came over central United States. On Saturday, we got a lot of moisture that returned from Gulf of Mexico, and when you bring those ingredients together, something's going to happen."
Tornado strikes have fallen markedly in the U.S. since the 2011 season, when the country was hit over and over by killer twisters. April 2011 had 497 EF1 or stronger tornadoes, which are the types that can cause damage. That's not only a record, but it's more than the next two highest months combined, Brooks said.
---