Sending humans to Mars holds radiation risk, study shows
A radiation-monitoring device carried by NASA's Mars rover Curiosity took measurements during the trip to the red planet. A resulting study appears in Friday's issue of the journal Science.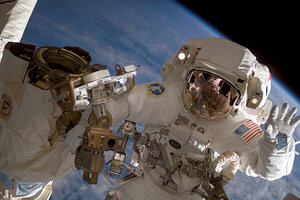 NASA/AP/File
For any astronaut tapped for a trip to Mars, a journey today would be a once-in-a-lifetime experience – in more ways than one.
With shielding comparable to the level built into NASA's new crew-exploration vehicle (CEV), just the trip to and from the red planet could expose travelers to an accumulated dose of radiation that would approach – and in some cases exceed – the maximum allowable career limits for a NASA astronaut.
The Europeans, Russians, and Canadians accept a somewhat more liberal exposure limit than the National Aeronautics and Space Administration does. Even at that limit, Mars would probably represent a memorable but one-and-done spaceflight career for any prospective astronaut.
Those are among the implications of measurements taken by a radiation-monitoring device that NASA's Mars rover Curiosity carries. The measurements were taken during Curiosity's 253-day, 347-million-mile trip to the red planet. The data were unveiled Thursday in a study set to appear in Friday's issue of the journal Science.
"NASA is very excited to get this new cruise data," said Eddie Semones, radiation health officer at NASA's Johnson Space Center in Houston during a briefing Thursday to discuss the results. The data also will help shape human-exploration missions other than to Mars, he adds, noting that missions to retrieve asteroids or even missions to the moon will benefit from the information the new results provide.
Scientists and engineers long have recognized radiation in space as perhaps the most significant challenge to exploration beyond low-Earth orbit, where Earth's magnetic field acts as a natural deflector shield.
The hazard has spawned a range of studies on how to deal with the risk, ranging from concepts for spacecraft that can generate protective magnetic fields to individual body armor for astronauts.
To date, researchers had gathered "outdoor" radiation measurements on a wide variety of robotic spacecraft visiting comets, asteroids, and other planets. The detectors on these missions were exposed to space by design, so they could measure radiation levels around a planet or in interplanetary space.
---