Dogs are somewhat like young human children, study finds
When exploring their environments, dogs treat their owners similar to the way young children treat their parents, new research reveals.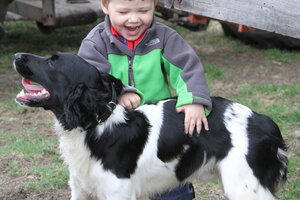 Kelly Humphrey/Brainerd Dispatch/AP
Treating our dogs like our babies might, it turns out, be somewhat reasonable.
A new study has found that the relationship between dogs and their owners is similar in character to that between parents and their babies.
In human parent-child bonding, infants perceive their caregivers as a "secure base" as they begin to explore the world, tentatively reaching out into the unfamiliar with the confidence that someone known is observing their mini-adventure and is waiting to fold them back into what is safe and secure. Now, a study published in PLOS ONE has tested the confidence-levels of dogs with and without their owners and found that the same "secure base effect" is also found in owner-dog bonding.
To note differences in dog behavior with and without their owners, Lisa Horn and colleagues from the Vetmeduni's Messerli Research Institute studied the behavior of dogs under three different conditions: "absent owner," "silent owner," and "encouraging owner." In each of the situations, the dog could earn a food reward by interacting with dog toys.
---